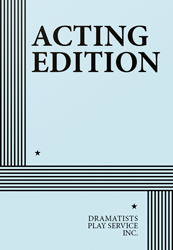 Full Length, Drama
3 men, 1 woman
Total Cast: 4, Interior
ISBN-13: 978-0-8222-1980-4


FEE: $105 per performance.
THE STORY: In a ramshackle cantina in Los Alamos, New Mexico, on the night of July 15, 1945, four people await the test of the atomic bomb. Each of them is connected directly or indirectly with the top-secret Trinity project, and over the course of the evening the horror of what is about to be unleashed on the world begins to dawn on them. As tensions mount, and questions of science, religion and morality collide, RAIN DANCE makes palpable the thrilling and terrifying journey of our first steps into the atomic age.
"…[an] emotion-packed ninety-minute tale." —BackStage. "…thoughtful and emotionally resonant…" —Variety. "…a play of complex layers of meaning and stunning theatricality…[with] glorious dialogue…" —Detroit Press. "…a great play whose intimacy…accentuates its immense, world-changing canvas." —Ann Arbor News.