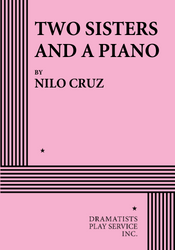 THE STORY: Set in 1991, during the Pan American Games in Havana and while the Russians are pulling out of Cuba, this play portrays two sisters, Maria Celia, a novelist, and Sofia, a pianist, serving time under house arrest. Passion infiltrates politics when a lieutenant assigned to their case becomes infatuated with Maria Celia, whose literature he has been reading.
"It's one of the most fascinating cat-and-mouse games to be seen on the stage." —The Star-Ledger (NJ).

"The beauty of TWO SISTERS AND A PIANO is its refusal to paint characters in black-and-white. Cruz's tightly constructed study of incarcerated sisters—provides the spine for an authentic study of oppression that bends but never breaks the human spirit." —Variety.