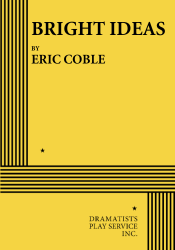 Full Length, Drama
2 men, 3 women (doubling)
Total Cast: 5, Minimal Flexible Set
ISBN-13: 978-0-8222-1992-7


MIN. PERFORMANCE FEE: $105 per performance.
THE STORY: How far would you go for your child? For Genevra and Joshua Bradley, the question is no longer hypothetical. Their three-year-old son, Mac, is next on the waiting list to get into the Bright Ideas Early Childhood Development Academy—and everyone knows once you're in there, your life will unfold with glorious ease. Josh and Gen have had to scramble all their lives to get this far…and now they are one fatal dinner party away from the ultimate success as parents: The Right Pre-School. You may never look at pre-school—or pesto—the same way again…
"Eric Coble's deliciously black comedy benefits from hilariously funny, psychologically astute portraits…the near surreal spoof hits home with ribtickling acuity…" —The New York Times.

"Funnier than anything on Broadway!" —New York Post.

"A tidy little gem of comic insanity." —Variety.

"A tour de force with physical and verbal comedy to spare." —The New Yorker.

"A comedy that is, of all things, genuinely funny." —Newsday (NY).

"Wickedly funny." —Broadway.com.