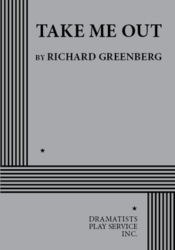 Full Length, Drama
11 men (doubling)
Total Cast: 11, Flexible Set
ISBN-13: 978-0-8222-1993-4


MIN. PERFORMANCE FEE: $130 per performance.
Recipient of the 2003 Tony Award® for Best Play.

THE STORY: Darren Lemming, the star center fielder of the world champion New York Empires, is young, rich, famous, talented, handsome and so convinced of his popularity that when he casually announces he's gay, he assumes the news will be readily accepted by everyone. It isn't. Friends, fans and teammates react with ambivalence, and when the slipping Empires call up the young phenom Shane Mungitt to close their games, the ambivalence turns to violence. Angry, lonely, guilt-ridden and confused, Darren finds some unlikely solace in the form of friendship with his new business manager, Mason Marzac—a brilliant but repressed guy, who, as everyone around him copes with disenchantment, blooms in the ecstatic discovery of baseball.
"…what an enchanting and enchanted take on baseball Mr. Greenberg has created…passionately personal and lyrically analytical. It's a sensibility that is so smart, raw and sincere all at once that you may find tears in your eyes…an unconditional, all-American epiphany…to cherish." —The New York Times.

"…a heady, heartfelt and enormously appealing romance…Perhaps never in my theatergoing experience have I experienced such an overwhelming—and spontaneous—surge of affection sent across the footlights." —Variety.

"TAKE ME OUT may have been written twenty years ago—when people were already buzzing about the possible comings-out of players in traditionally macho sporting bastions—but it cleverly eschews the most conventional narratives about LGBTQ people in sport and public life more generally. Unlike the debate at the time, and the debate still today, the closet is barely mentioned, the oppression and responsibility an LGBTQ athlete may feel is not the focus either, and nor is coming out…But this play is really about masculinity—its fracture, fragility, and power—played out against the canvas of America's most loved and mythologized sport." —The Daily Beast.

"TAKE ME OUT, Richard Greenberg's 2002 play that charts the ramifications when a star baseball player comes out as gay, opens on Broadway tonight in a revival that has the perfect timing of a triple play." —Deadline.

"Richard Greenberg's I-heart-baseball play, "Take Me Out," has returned to the field for another Broadway run, and it is as robustly entertaining as it proved to be when it debuted nearly 20 years ago—maybe even more so now." —Washington Post.