The Long Christmas Ride Home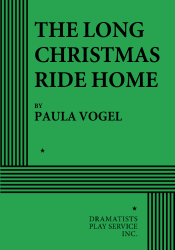 Full Length, Drama
3 men, 3 women, 3 puppets
Total Cast: 6, Flexible Set
ISBN-13: 978-0-8222-2003-9


MIN. PERFORMANCE FEE: $105 per performance.
THE STORY:
Past, present, and future collide on a snowy Christmas Eve for a troubled family of five. Humorous and heart-wrenching, this beautifully written play by the Pulitzer Prize-winning author of
How I Learned to Drive
proves that magic can be found in the simplest breaths of life.
"…[a] lovely and hauntingly original family drama…a work that breathes so much life into the theater." —Time Out New York.

"…[a] delicate visual feast…When theatergoers talk about a play as a religious experience, they usually just mean that it had charismatic performances or some exciting dance numbers…Paula Vogel is not indulging in such hyperbole. She means her play to be a religious experience in the way that a Christmas Mass might be for committed Roman Catholics: an exalted communal ritual of redemption and solace… It's enough to make even die-hard agnostics believe…in the mystical powers of drama." —The New York Times.

"…brutal and lovely…the overall effect is magical." —Newsday (NY).

"Vogel remains…the best playwright writing today." —Sun Chronicle (Providence).