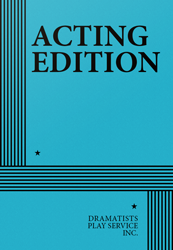 Full Length, Drama
2 men, 5 women
Total Cast: 7, Flexible Set
ISBN-13: 9780822220107

THE STORY: Amidst the idealism and violence of Freedom Summer in 1964 Mississippi, three college students vanish, seemingly without a trace. As the parents of Honey, Linda, and Wes cope with their loss, they become inescapably linked—the heirs of their lost children's dreams. Throughout the next three decades, the connections among these people with very disparate backgrounds are tested against the fire of the country's social and political turbulence. The structure of the play mixes naturalism with a surprising time curve that evokes the whirl of events surrounding the parents' interwoven journeys.
"Playwright Barbara Lebow has created a moving, funny, and thoughtful drama…THE LEFT HAND SINGING [is] a play not easily forgotten, with some twists and turns that are both unpredictable and instructive…The dialogue is a rich compilation of thirty years of American civil rights efforts…It seems ironic that the play, about the dangers of asserting one's civil rights in Mississippi in 1964, should open in the same week in which that state's voters have decided to hang onto the state's most divisive symbol—their Confederate flag." —Arkansas Democrat Gazette. "…intense and thoughtful…subtly exposes how prejudice infects people—regardless of race, ethnic-ity, religion, or geographic location—and poisons our perspective." —Arkansas Times. "…vivid, three-dimensional characters…THE LEFT HAND SINGING gives credible details of three disparate families brought together by youthful ideals and then terrible tragedy…[It] explores the family and political pressures that turn youths into activists, the process of grieving, the procedure of high-profile missing persons cases, and the forces that both unify minority groups and cleave them apart…the ideals of the 1960s give way to the fragmentation and cynicism of subsequent decades, and friction develops in the two women's friendship…a rich perspective of the motivations of America's civil rights activists, personalizing a grim chapter of our past without making any of its self-sacrificing characters into plastic saints." —Creative Loafing (Atlanta).