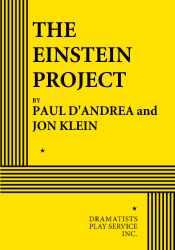 Full Length, Drama
8 men, 1 woman (flexible casting)
Total Cast: 9, Flexible Set
ISBN-13: 978-0-8222-2025-1


MIN. PERFORMANCE FEE: $105 per performance.
THE STORY: THE EINSTEIN PROJECT is a highly theatrical journey into one of the most fascinating minds of the modern age. It rejects iconic clichés about Albert Einstein in order to reveal the true man—a dynamic, Shakespearean personality, driven by passion, fear and anger. Theatrical techniques involving movement, music and visual images—a Japanese tea ceremony, a picnic with physicist ghosts—convey his mental and emotional struggles. Humorous "newsreels" flicker to show the growing celebrity and absurdity of the Einstein "phenomenon." In the happy early days Einstein creates physics on the spot with members of the Uranium Club and spends his free time sailing with his emotionally disturbed son, Edward. But he increasingly finds himself at odds with the new nationalism of Hitler's Nazi Party—especially when embodied by his chief competition, the brash young genius Werner Heisenberg. Einstein's fear and fury result in the abandonment of Edward—and an escape to America. In the second act, at the height of World War II, Einstein wonders if his old friends are developing atomic weapons for Hitler. Ironically, it is possible that Heisenberg and the other German scientists have successfully resisted such weapons research and trust that Einstein will do the same. But the U.S. Government and ominous rumors from Europe feed Einstein's fear until he breaks down and urges President Franklin Roosevelt to develop atomic weapons for use against Germany. As a result, one of the most famous pacifists of all time is forced to go counter to his own beliefs. And to Einstein's horror, atomic bombs are dropped on a country he didn't even consider—Japan. The climax of the play finds Einstein reunited with his mad son, Edward, trying to sail in the atomic storm that he helped unleash. His discovered love for Edward gives him hope that we can stop the storm.
"A compelling play of ideas done in a superbly theatrical style…This is provocative stuff…dealing with large concepts in an entertaining and theatrical way, it deserves mighty praise in an era of tiny-minded plays." —Minneapolis Star Tribune.

"…a riveting, intensely theatrical production…" —Berkshire Eagle.

"…total theater…invigorating…scenes of shattering emotional intensity…" —New Berkshire.

"…a provocative script…stimulating, intelligent theater…the subtleties of the images simply take your breath away…triumphant…" —CurtainUp.

"Drop everything! To see what theater is when it soars…It will engage your mind and touch your heart." —Theatre Notes.

"…a riveting and engrossing play…" —WBRK Radio.

"…stimulates the mind while being richly entertaining…" —Advocate.