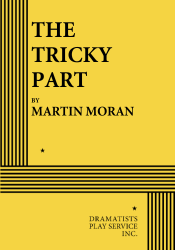 THE STORY: A true story of sexuality, spirituality and the mystery of human experience, THE TRICKY PART is one of the most heralded one-man plays in recent memory. Between the ages of 12 and 15, the author had a sexual relationship with an older man. Now 42 and an established New York actor, he has transformed his story into a riveting, often funny and always surprising journey through the complexities of Catholicism, desire and human trespass.
Recipient of a Special Citation from the 2004 Obie Awards. "A translucent memoir of a play…shattering." —The New York Times.

"Powerful." —New York Post.

"Surprising and moving! Startling, marvelously told." —Newsday (NY).

"Deeply personal and exceedingly honest. It steadily builds from its unassuming beginning to an emotionally charged ending. A powerful, truthful account." —Broadway.com.

"An emotionally honest play about sexuality and reconciliation." —Associated Press.

"THE TRICKY PART is the most powerful play of the season." —Next Magazine.