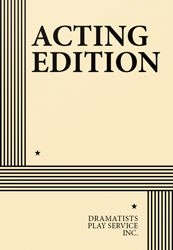 One Act, Drama
3 men, 3 women
Total Cast: 6, Interior/Exterior
ISBN-13: 978-0-8222-0160-1


MIN. PERFORMANCE FEE: $40 per performance.
THE STORY: The setting is the cluttered living room (and front porch) of an old frame house near the campus of a Catholic men's college in the Midwest. It is a summer night in the pre-Vietnam sixties, and the occupants of the house, three laid-back male students are filling in their time with beer and rock music while waiting for classes to begin. They are visited by several young local ladies of their acquaintance, and while the resulting repartee is lively and often hilarious, deeper concerns are soon revealed. One of the girls, shy and a bit awkward, is unable to convey her feelings to one of the boys—who is equally clumsy in sensing her attraction. And another girl, a sexual tease fresh from an overseas jaunt, threatens to disrupt things further by flirting indiscriminately. Ultimately the play is a touching and revealing examination of the nature and vulnerability of friendship, and sad-funny conflicts which, regardless of time or place, are an unavoidable part of the process of moving into young adulthood.
First presented by New York's Ensemble Studio Theatre, as part of its noted One-Act Play Marathon.

A sharply drawn study of the lives and loves of six joyously uninhibited college students, which delves beneath their surface exuberance to reveal the fears and longings which trouble them.

"…What makes Miss Gallagher's writing particularly impressive is not her warm and touching account of her lonely, would-be lovers, but her ability to capture the camaraderie, conflicts and humor of all her play's buddies, male and female." —The New York Times.

"Mary Gallagher's BUDDIES is a choice one act." —WQXR.