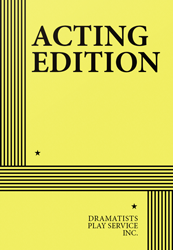 Full Length, Dramatic Monologues
2 women
Total Cast: 2, Open Stage
ISBN-13: 978-0-8222-2057-2


MIN. PERFORMANCE FEE: $105 per performance.
THE STORY: Alison and Liza are navigating the channels of motherhood as they take a revealing and sometimes comedic look at the balancing act of promise and compromise. Both women test the vision of who they think they are, who they wish to be, and ultimately who they become as individuals, as mothers, as professionals and as members of their families.
"…the authors are right to insist there is pathos in the plight of women who go to college not for an MRS. but for an M.A. or Ph.D., but discover after a child or two that the first credential cancels the others…many women will be moved by the gumption and humanity of these everyday stories and by the aspirations that a hardboiled achiever like Alison swallows when she quits her faculty job, saying in bewilderment, 'I love my kids so much more than I planned.'" —The New York Times.

"These side-by-side monologues have many vivid and nakedly honest stories to tell; there are certainly two skillful writers at work, and it seems that it is the strength of their collaboration that brought these stories out of each other." —NY Theatre.