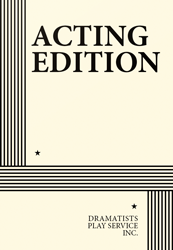 Full Length, Dark Comedy
4 men, 3 women
Total Cast: 7, Flexible Set
ISBN-13: 9780822220619

THE STORY: A suburban "security mom," shell-shocked by the new post 9/11 reality, finds herself irresistibly drawn to her son's tutor, a handsome young man with political leanings far different from her own. Her "awakening" leads to a bizarre series of events that blow the lid off her previously sheltered existence and change the lives of all around her. A dark and slightly zany comedy.
Winner of the 2004 Kaufman and Hart Award. "[Butterfield] does in ninety minutes what it would take many writers a lifetime to do—peel back the layers of unique individuals to show you how they feel and make you understand why they feel that way, even if their views conflict stridently with your own…You may very well find yourself sitting in your car afterward, wondering if you would have seen the ending coming if you had just concentrated a little more. Kind of like when you saw M. Night Shyamalan's The Sixth Sense for the first time." —North Arkansas Times. "As dark and satisfyingly complete as any concoction dreamed up by the Brothers Grimm." —The Arkansas Democrat-Gazette.