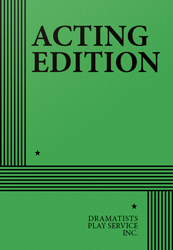 Full Length, Romantic Comedy
2 men, 2 women
Total Cast: 4, Flexible Set
ISBN-13: 978-0-8222-2072-5

THE STORY: In a Manhattan coffee shop, Ben, an Upper West Side financial consultant, meets Hershel, an Orthodox jewel merchant, to buy an engagement ring. Although both men are Jewish, it is their shared religion that instantly divides them. Tension mounts in the midst of the deal when Ben suggests Hershel remove his yarmulke. Desperate to make the sale, Hershel obliges. In the apartment they share, Ben proposes to his girlfriend, Hannah, a sensitive yet stong-minded doctor. Hannah accepts, but the moment is muddled by mixed emotions for each of them and the sudden and unexpected arrival of Hershel on their doorstep! Frantic and frenzied, Hershel recounts that since he removed his yarmulke, his life has fallen apart. Hershel moves in with Ben and Hannah and they begin the task of putting his life back together—by finding him a bride. A modern couple, they turn to the Internet for matchmaker. On Shabbat, Hannah arrives home from a long day at the hospital, upset. Although Hershel has never been alone with a woman before, he offers Hannah comfort and support, which leads to a kiss. Hershel goes out on his first date with Rachel, the online suitor. As Hershel discovers his love for Rachel, Ben and Hannah rediscover their love. Three months later, Ben and Hershel meet again, as changed men, no longer divided by their faith. They have learned something from each other, and each couple is ready to embark on married life; one beginning as Orthodox virgins, the other as modern parents-to-be.
"Daniel Goldfarb has written an adorable romantic comedy—with honest to G-d belly laughs—about love and sex and faith and friendship." —Variety. "A sharp, snappy romantic comedy." —NY Times. "Hilarious. There are lots of belly laughs, thanks to playwright Daniel Goldfarb's ability to craft genuinely funny one-liners." —NY Post. "The place of conservatism in the modern world can be a polarizing topic. In MODERN ORTHODOX, Daniel Goldfarb's entertaining new play, it also happens to be a potent source of comedy…Goldfarb's writing hints at classic comedy films of the 1940s or 1950s, with some exchanges seeming as though they could have been written for Spencer Tracy and Katharine Hepburn…" —Associated Press.