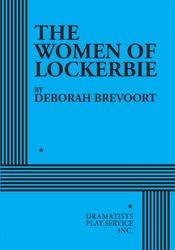 THE STORY: A mother from New Jersey roams the hills of Lockerbie, Scotland, looking for her son's remains that were lost in the crash of Pan Am 103. She meets the women of Lockerbie, who are fighting the U.S. government to obtain the clothing of the victims found in the plane's wreckage. The women, determined to convert an act of hatred into an act of love, want to wash the clothes of the dead and return them to the victim's families. THE WOMEN OF LOCKERBIE is loosely inspired by a true story, although the characters and situations in the play are purely fictional. Written in the structure of a Greek tragedy, it is a poetic drama about the triumph of love over hate.
Winner of the Silver Medal in the Onassis International Playwriting Competition and the Kennedy Center Fund for New American Plays Award.

"A moving, thoughtful exploration of how grief changes over time." —The New Yorker.

"…catches the grim mood [of a terrorist attack] better than anything I've yet seen on the subject of 9/11 and its aftermath. In its tightly controlled depiction of collective sorrow…it becomes almost unbearably moving." —The Telegraph (UK).

"Playwright Deborah Brevoort has a gift for high poetry and her descriptions of the day when death came raining down on Scotland are impressively moving…endowed with character, poetry and a core of touching emotion…" —Time Out London.

"…gives powerful voice to a disturbingly contemporary anguish: how to respond to suffer-ing caused by a terrorist attack…the play has the power to move an audience to new hope in a world witnessing continual acts of revenge and hatred." —Sydney Morning Herald (Australia).

"This finely honed play has the formal beauty of a Greek tragedy. The result is a play where not a minute is wasted in verbiage—where you are gripped from the opening moment and not released until the end." —Green Left Weekly (Australia).