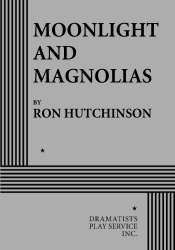 Full Length, Comedy
3 men, 1 woman
Total Cast: 4, Interior
ISBN-13: 978-0-8222-2084-8


MIN. PERFORMANCE FEE: $130 per performance.
THE STORY: 1939 Hollywood is abuzz. Legendary producer David O. Selznick has shut down produc-tion of his new epic, Gone with the Wind, a film adaptation of Margaret Mitchell's novel. The screenplay, you see, just doesn't work. So what's an all-powerful movie mogul to do? While fending off the film's stars, gossip columnists and his own father-in-law, Selznick sends a car for famed screenwriter Ben Hecht and pulls formidable director Victor Fleming from the set of The Wizard of Oz. Summoning both to his office, he locks the doors, closes the shades, and on a diet of bananas and peanuts, the three men labor over five days to fashion a screenplay that will become the blueprint for one of the most successful and beloved films of all time.
"An affectionate portrait of the legendary movie producer David O. Selznick and his collaborators…a lot of fun…dispenses a good deal of insider's dope on the professional and personal dynamics that fueled the production [of Gone with the Wind]…plenty of genuine wit in the dialogue, and the characters are drawn with such affection that one can't help but cheer for them." —New York Post.

"…A Hollywood dream-factory farce…At once a hyperventilating slapstick comedy, an impassioned love song and a blazing critique of Hollywood…just when you think it's all fun and games…[Hutchinson] turns the tables…he has a gift for enveloping you in blackness. And then, with a single line…he also can lift the heavy cloud and get on with the hilarity." —Chicago Sun Times.

"Consumers of vintage Hollywood insider stories will eat up Hutchinson's diverting conjecture as to what actually happened behind those closed doors, a scenario given extra spark by the fractious interplay among the three men and their wildly contrasting demeanors…it's the hellbent determination and entrepreneurial insanity of the independent producer to which Hutchinson pays tribute." —Variety.

"Frankly, my dear, this is one funny play…a rip-roaring farce…[with] witty, pointed dialogue and hilarious situations…" —New York Daily News.