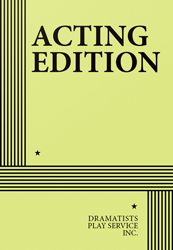 Full Length, Drama
2 men, 3 women, 1 girl
Total Cast: 6, Flexible Set
ISBN-13: 9780822220916

THE STORY: THE SHAKER CHAIR focuses on the constrictions and possibilities of middle age as one woman is forced to redefine her view of the world and her place within it. When do we intercede? Who's the more dangerous person: the one who takes violent action against injustice or the one who sits and does nothing? And, conversely, when does the activist go too far?
"…a briskly funny and bracing new play…Taking action is at the heart of Bock's evenly balanced blend of comedy and drama…Bock has sharp ears for human conversation. His dialogue is naturalistic, peppered with stops and starts, exclamations and asides that make his stage characters appear spontaneously real." —Louisville Courier-Journal. "For female actors older than fifty, the options for roles these days seem to be relegated to mothers and crazy aunts. So, along comes whippersnapper Adam Bock with THE SHAKER CHAIR, an entertaining, concise, thought-provoking showcase for older actresses." —Lexington Herald-Leader.