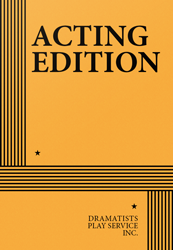 Full Length, Drama
1 woman (or 3 to 9 women)
Total Cast: 1, Flexible Set
ISBN-13: 978-0-8222-2097-8

THE STORY: A portrait of the extraordinary (and ordinary) lives of a whole cross-section of Iraqi women: a sexy painter, a radical communist, doctors, exiles, wives and lovers. This work delves into the many conflicting aspects of what it means to be a woman in the age-old war zone that is Iraq. An unusually timely meditation on the ancient, the modern and the feminine in a country overshadowed by war. 9 PARTS OF DESIRE can be performed as a one-woman show or with a cast of three to nine women.
Winner of a 2005 Susan Smith Blackburn Prize Special Commendation and Lucille Lortel Award for Best Solo Show. "…a triumph…thrilling…an example of how art can remake the world…In this remarkable one-woman show, [Heather Raffo's] writing…is marked with wit and by a scrupulous attention to the details of character." —The New Yorker. "It brings us closer to the inner life of Iraq than a thousand slick-surfaced TV reports. Yet [Raffo's] beautifully shaped one-woman play is a play, not a stodgily earnest piece of documentary theater, and therein lies its singular force and compulsion: It is persuasive precisely because it is beautiful." —Wall Street Journal. "…powerful, impassioned, vivid, memorable…The voices are a study in contrasts: vivid and subdued, sophisticated and naïve, seductive and standoffish. But they cohere to form a powerful collective portrait of suffering and endurance." —NY Times. "The female half of Iraq has come to America." —Gloria Steinem.