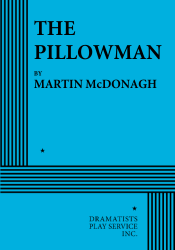 Full Length, Dark Comedy
4 men, 5 bit parts (2 men, 1 woman, 1 boy, 1 girl)
Total Cast: 4, Flexible Set
ISBN-13: 978-0-8222-2100-5


MIN. PERFORMANCE FEE: $130 per performance.
THE STORY: With echoes of Stoppard, Kafka, and the Brothers Grimm, THE PILLOWMAN centers on a writer in an unnamed totalitarian state who is being interrogated about the gruesome content of his short stories and their similarities to a series of child murders. The result is an urgent work of theatrical bravura and an unflinching examination of the very nature and purpose of art.
"Energizing…a blindingly bright black comedy…[what makes] the unsettling and exhilarating new play from Mr. McDonagh…so gripping as theater is how narrative art becomes the play's and the character's very life blood." —The New York Times.

"[McDonagh is] a dangerously prodigious master of theatrical form with a talent that goes far deeper than most people understand…THE PILLOWMAN [is] thoroughly startling and genuinely intimidating." —Chicago Tribune.

"McDonagh's least forgiving, bravest play." —Variety.

"A complex tale about life and art, about fact and illusion, about politics, society, cruelty and creativity." —Financial Times.