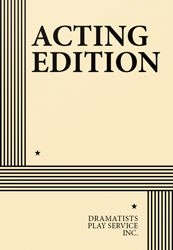 Full Length, Comedy
2 men
Total Cast: 2, Interiors/Exteriors
ISBN-13: 978-0-8222-2104-3


MIN. PERFORMANCE FEE: $105 per performance.
THE STORY: Omar, a retired baseball umpire, suddenly gets a phone call from Ry, a son he's never seen. Ry is the product of a one-night stand long ago. He's never wanted to meet his absentee father, but now in his mid-thirties, after making a life for himself in a distant city, he seems to feel it's time. Omar's not so sure. In a series of funny, heartbreaking scenes, the two men negotiate every inch of a very rocky road in trying to come together. Is there any common ground? Can Omar ever master the skills to become a father, or Ry to become his son? Will baseball help? The local major-league team has a winning streak going. Meanwhile, these two men are just trying to win one in a row. A bittersweet comedy about the need for family in us all.
"Blessing has forged a conflict peppered with flinty dialogue…written with economy and precision." —Variety.