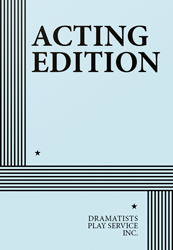 Full Length, Drama
3 men, 2 women
Total Cast: 5, Flexible Set
ISBN-13: 978-0-8222-2115-9


MIN. PERFORMANCE FEE: $105 per performance.
THE STORY: When marketing consultant Steven Gold invites near strangers to dinner, his wife, Patty, helps put their home in order. But she can't do the same for her husband. Just back from a business trip to Chicago, Steve is rattled by encounters with his childhood friend Artie and his overbearing client Peter Hamish. When the alluring Jane and her reticent spouse, Fred, arrive, the safe shell protecting hosts and guests starts to crumble. Goaded by the women they love and haunted by memories they can no longer suppress, two men confront the lies of their lives. Hilarious and harrowing, DISCONNECT explores marriage, friendship and passion in the age of telecommunications. With so many flashy new ways to communicate, why are we still so bad at it?
"Scathingly well-observed dialogue, damning (and redeeming) character twists, clinical distance, and hysterical passion…DISCONNECT aptly lauds values other than success…fascinating and engaging…." —Time Out New York.

"Funny and ambitious…impressive…exhilarating. DISCONNECT is that rare show that takes its message—that humanity is not getting better at communicating, even while inventing new ways to do so—seriously, but does not take itself seriously. There are not many other shows around that can make you laugh and think at the same time." —NYTheatre.

"A thoughtful consideration of a man's midlife crisis that goes beyond mere personal issues to illuminate America's ugly corporate mindset. Lively…intelligent…realistic and first-rate." —The Star-Ledger (NJ).