The Learned Ladies of Park Avenue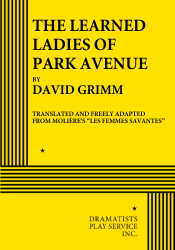 Full Length, Comedy
5 men, 5 women (doubling)
Total Cast: 10, Flexible Set
ISBN-13: 978-0-8222-2135-7


MIN. PERFORMANCE FEE: $105 per performance.
THE STORY: A jazz-age screwball comedy riff on Molière's biting satire of pretense and learning. Betty wants to marry Dicky. Her mother Phyllis, a self-proclaimed intellectual and political activist, has another man in mind—namely, the hack poet and scheming opportunist Upton Gabbitt. Set in 1936 Manhattan against the backdrop of the Great Depression and impending war, this romantic comedy skewers those who wear their so-cial conscience on their sleeve and affirms that love conquers all.
"A brave, brainy and barmy revision of Molière…An elegantly composed variation on a society comedy from art deco Hollywood. Grimm reflects on our own neoconservative plots to undo the New Deal." —Hartford Courant.

"Dramatic verse is not just alive and well on the cutting edge of theatre but thriving in David Grimm's spanking new THE LEARNED LADIES OF PARK AVENUE…A rare but welcome bird in contemporary theatre." —New Haven Register.

"Roll over Cole Porter." —Boston Globe.