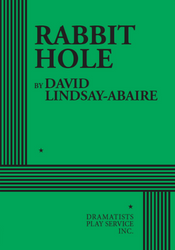 Winner of the 2007 Pulitzer Prize for Drama.

THE STORY: Becca and Howie Corbett have everything a family could want, until a life-shattering accident turns their world upside down and leaves the couple drifting perilously apart. RABBIT HOLE charts their bittersweet search for comfort in the darkest of places and for a path that will lead them back into the light of day.
"David Lindsay-Abaire has crafted a drama that's not just a departure but a revelation—an intensely emotional examination of grief, laced with wit, insightfulness, compassion and searing honesty." —Variety.

"Grade: A! A transcendent and deeply affecting new play, which shifts perfectly from hilarity to grief." —Entertainment Weekly.

"RABBIT HOLE presents a tragedy and its consequences with utter candor, and without sentimentality. The dialogue is most impressive for capturing the awkwardness and pain of thinking people faced with an unthinkable situation—and eventually, their capacity for survival, and even hope." —USA Today.

"With RABBIT HOLE, David Lindsay-Abaire has crafted the most serious, simply told work of his career—a painstakingly beautiful, dramatically resourceful, exquisitely human new play." —Backstage.

"A thoroughly absorbing, profoundly affecting and painfully touching examination of grief." —Bergen Record.

"The highest praise to playwright David Lindsay-Abaire! RABBIT HOLE is an entertaining and satisfying play—it might just be the year's best." —Show Business Weekly.

"A perceptive and poignant study in the day-to-day aches of bereavement: problems with personal intimacy, the uneasy friends who don't call, the emptiness in a house packed with reminders…Heartbreaking in its theme and details, RABBIT HOLE is a beautifully crafted work of great sensitivity." —The Star-Ledger (NJ).