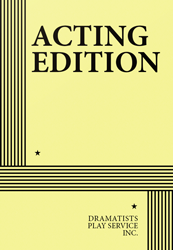 THE STORY: For more than half a century the name Florence Foster Jenkins has been guaranteed to produce explosions of derisive laughter. Not unreasonably so, as this wealthy society eccentric suffered under the delusion that she was a great coloratura soprano when she was in fact incapable of producing two consecutive notes in tune. Nevertheless, her annual recitals in the ballroom of the Ritz Carlton hotel brought her extraordinary fame. Her growing mob of fans packed her recitals, stuffing handkerchiefs in their mouths to stifle their laughter—which Mrs. Jenkins blissfully mistook for cheers. SOUVENIR, by turn hilarious and poignant, tells her story through the eyes of her accompanist, Cosme McMoon. Eyewitness accounts of their concerts vary so wildly it is almost impossible now to separate fact from gossip. Hence this fictional "biography," in which we follow the story of their partnership from its earliest days to their infamous concert in Carnegie Hall and its aftermath. With each new imagined triumph Florence's confidence soars. Faced with her boundless certainty, Cosme comes to revise his attitude, not only towards her singing but to the very meaning of music itself. A musical odd-couple for the ages.
"A beguiling comic jewel with a heart." —Variety.

"Life holds up a funhouse mirror to art in SOUVENIR, Stephen Temperley's wildly funny and surprisingly touching portrait of real-life musical laughingstock Florence Foster Jenkins… a memorable illustration of the real limits of self-perception, and of the purely theatrical magic that can turn the tinniest ear to gold." —Time Out New York.

"Tone-deaf but utterly pitch-perfect. What is extraordinary about SOUVENIR is that Temperley has made Jenkins, for all her foolishness, a remarkably sympathetic woman. You never doubt that Jenkins has tremendous dedication to the composers whose work she massacres. Kaye makes her devotion to Art incredibly moving. To have made Jenkins a tender, poignant human being is breathtaking… A kind of loony triumph." —New York Daily News.

"If you're lucky enough to see SOUVENIR: A FANTASIA ON THE LIFE OF FLORENCE FOSTER JENKINS…you'll have one distinct advantage over Jenkins' audiences. You won't have to try to keep your body from shaking or stuff your handkerchief into your mouth to hide your laughter. And laugh you will. Till you cry. SOUVENIR is downright hilarious… Temperley has brought to this his own sense of mirth as well as a sensibility that doesn't settle for mere mirth. Thus SOUVENIR raises questions about how we see ourselves and how others see us, how we make music and how we make judgments about people making music… So go laugh to your heart's content. There weren't many voices as bad as Jenkins'. There aren't many theatrical experiences as good as SOUVENIR." —Boston Globe.

"…an unexpectedly gentle and affecting comedy." —The New York Times.