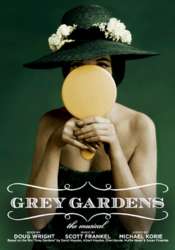 THE STORY: The hilarious and heartbreaking story of Big Edie and Little Edie Bouvier Beale, the eccentric aunt and cousin of Jacqueline Kennedy Onassis, once bright names on the social register who became East Hampton's most notorious recluses.
"To listen to GREY GARDENS is to bring to mind two phrases seldom linked nowadays: 'Broadway musical' and 'artistic integrity.' The songs, with music by Scott Frankel and lyrics by Michael Korie, sustain a level of refined language and psychological detail as elevated as Stephen Sondheim's. The score is a meticulously fashioned piece of musical theater that gains in depth the more you listen to it." —The New York Times.

"The best musical of the year…GREY GARDENS blooms with creativity…Some of the most tuneful and moving songs to grace an original musical in years. Dig in and enjoy!" —USA Today.

"GREY GARDENS is the real deal!" —New York Magazine.

"Can a musical be hilarious and heartbreaking at the same time? GREY GARDENS can! Here's that shot in the arm for theater lovers who've been longing for something bold, haunting and hypnotic to get lost in…Doug Wright's book is nuanced and compassionate…the original score by Scott Frankel and Michael Korie has the power to live in your head long after you leave the theater…GREY GARDENS is more than a unique and unmissable musical: It's a gift." —Rolling Stone.

"Excellent…a darkly thrilling, quirky and heartbreaking musical…Doug Wright's book tells an emotionally devastating tale of family and freedom. Scott Frankel and Michael Korie's songs are gorgeous—a literate, emotionally rich score." —NY1 News.

"Best musical of the year…Broadway's most daring new musical…Grade: A!" —Entertainment Weekly.