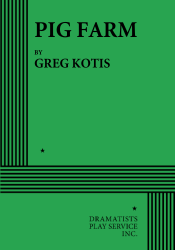 Full Length, Comedy
3 men, 1 woman
Total Cast: 4, Interior
ISBN-13: 978-0-8222-2184-5


MIN. PERFORMANCE FEE: $105 per performance.
THE STORY: On a struggling pig farm somewhere in America, Tom and Tina (with the help of Tim, their hired hand) fight to hold onto everything they own—namely, a herd of fifteen thousand restless pigs. Dumping sludge into the river has driven Tom to drink, and Tim seems to have caught Tina's eye, but when Teddy, a gun-toting officer of the Environmental Protection Agency, arrives to inspect the operation, life on the farm explodes, implodes, then explodes again. Not literally, of course, but…you get the idea.
"Scribe Greg Kotis, who elevated toilet humor to Tony®-winning levels in Urinetown, applies the same quirky comic sensibility to animal husbandry in this disgustingly funny farce, which is set on a rural pig farm and sends up beloved myths about hard times and heroism in the American heartland." —Variety.

"Whip smart." —New York Sun.

"Ludicrous." —The New Yorker.