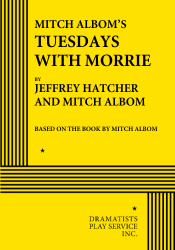 THE STORY: TUESDAYS WITH MORRIE is the autobiographical story of Mitch Albom, an accomplished journalist driven solely by his career, and Morrie Schwartz, his former college professor. Sixteen years after graduation, Mitch happens to catch Morrie's appearance on a television news program and learns that his old professor is battling Lou Gehrig's Disease. Mitch is reunited with Morrie, and what starts as a simple visit turns into a weekly pilgrimage and a last class in the meaning of life.
"Unforgettable! No matter how well you tell the story, the play makes it more vivid, more shattering, more humorous." —New York Magazine.

"Making the language of the book crisper, cleverer and more palatable…aphoristic wisdom, expressed with gallows wit." —The New York Times.

"A touching, life-affirming, deeply emotional drama with a generous dose of humor." —New York Daily News.

"I was unprepared for how moving and powerful TUESDAYS WITH MORRIE turned out to be…On this ground, the flowers of humanity grow." —New York Post.

"You'll Laugh! You'll Cry!" —Variety.

"The evening has an aura of celebration. Just what the doctor ordered, you are likely to be moved." —Journal News.

"Rewarding. Go see it any day of the week." —WOR-AM.