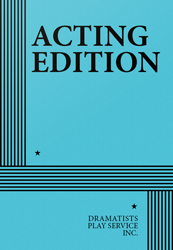 Full Length, Drama
2 men, 1 woman
Total Cast: 3, Interior
ISBN-13: 9780822221920

THE STORY: Hannah, a minister and Bible scholar, finds her faith at odds with that of Thomas, her estranged, wayward son. But when an inquisitive young writer hired to assist Hannah with her latest publication learns painful secrets from Hannah's past, she spies a risky, unconventional opportunity for reconciliation.
"Five Stars…Searching, perceptive, and absorbing…a tightly written interrogation of pain and belief…One of New York's essential playwrights, Bunin has written wonderful roles for his actors…Rooting through the intricate tangle of motivations that undergird personal faith, Bunin offers an empathetic and fair-minded view of religion: not as some derisory opiate of the people but as morphine for someone in possibly mortal pain." —Time Out NY. "Remarkably ambitious…A theatrical miracle: a complex, thought-provoking look at why religion, faith, and the human heart can't always be reconciled…The script's most amazing facet is how Bunin exposes the threesome's souls through their esoteric bantering, with topics ranging from metaphysical semantics and predestination vs. freewill, then theological wrangling over the power of a superior being and the very meaning of life…It all leads to a highly charged finale, the resolution of which proves completely wrenching." —Hollywood Reporter. "…intricacies of faith—as well as issues of sexuality, love and loss—are addressed in this provocative and moving new play…a refreshing take on the overlap between religion and homosexuality." —TheaterMania.com.