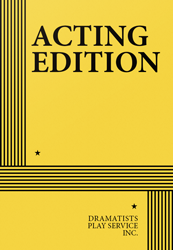 Full Length, Mystery
2 men, 2 women
Total Cast: 4, Interior
ISBN-13: 978-0-8222-2197-5


MIN. PERFORMANCE FEE: $105 per performance.
THE STORY: In a remote estate in the countryside of Connecticut, Jack Brooks, one of the most accomplished and eccentric painters of his generation, awaits the imminent arrival of his art dealer. But the visit is not a standard one, for Jack feels wronged, and he is intending to kill the man. As Jack lays out his intentions for the evening, his wife, Annie, calmly paints. She is reluctant to go along with the plan, until Jack's threat of violence convinces her otherwise. Harried and annoyed, Vincent, Jack's flamboyant art dealer, arrives. Will Jack carry out his plan? Will Annie help him? Or is something else going on?
2000 Edgar Award Winner for Best Mystery Play.

"A scintillating hit with thrills and chills and some wonderful humor…It will have you laughing and guessing who is to be murdered and who is the murderer." —Suburban News.

"With his usual flair for the outrageous, a sure knowledge of artistic egos and an understanding of the mystery genre as certain as his skill at comedy, Mr. DiPietro has created an insular world in which greed and vengeance and personal recognition are free to play with the sanity and the lives of everyone involved. ART OF MURDER takes the audience on a funhouse roller-coaster ride." —Press-Journal.

"It is hilarious, suspenseful, surprising and dazzling in every way." —Equinox News.