A Body of Water (Blessing)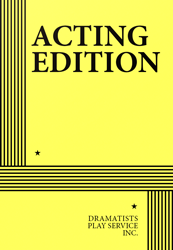 Full Length, Drama
1 man, 2 women
Total Cast: 3, Interior
ISBN-13: 978-0-8222-2203-3


MIN. PERFORMANCE FEE: $105 per performance.
THE STORY: Moss and Avis, an attractive, middle-aged couple, wake up one morning in an isolated summer house high above a picturesque body of water. The weather's fine; the view's magnificent. There's only one problem—neither of them can remember who they are. When a young woman named Wren arrives, information starts to flood in. But will it help? Her explanations seem only to make Moss and Avis' world—as well as ours—more terrifying.
"…a play rich in ideas about memory, identity, and fiction…[Blessing] lays down…a rich philosophical groundwork for the play's intrigue…artfully presented…" —Variety.

"…gets the audience talking…raises questions about what is true and whom to believe…intriguing stuff." —Los Angeles Times.

"…one of America's greatest playwrights…satisfying, ninety-five minutes of existential hide-and-seek." —St. Paul Pioneer Press.

"…the work of a mature master dramatist in complete control of his materials." —San Diego Union-Tribune.