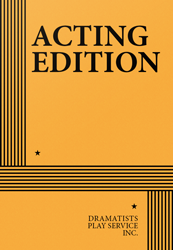 Full Length, Drama
5 men, 1 woman
Total Cast: 6, Flexible Set
ISBN-13: 978-0-8222-2204-0


MIN. PERFORMANCE FEE: $105 per performance.
THE STORY: A play in two plays, FLAG DAY examines white/black relations in our society with an unblinking eye.

The first play, GOOD, CLEAN FUN, is a darkly funny office comedy pitting two workers—one black, one white—against each other as they try to complete a high-pressure project. The office racism intensifies as we learn that one of them has stolen the other's wife. (2 men.)

The second, DOWN AND DIRTY, evokes recent white-on-black and black-on-white killings in the American South. In a style poised carefully on the edge of absurdism, we discover a man dying in a car's windshield as people argue over whether or not to save him. (3 men, 1 woman.)
"…a raw-edged, cringe-inducing exercise in good old-fashioned theater of cruelty…FLAG DAY is a frank, powerful, insightful, commentary on the still-poisoned status of race relations in this country…Unexpectedly balanced and provocative, FLAG DAY will have audiences peering deeply into their own souls long after they have left the darkened theater." —Washington Times.