All the King's Men (Warren)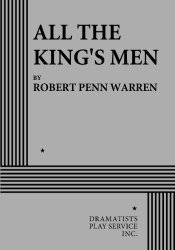 Full Length, Drama
14 men, 4 women, extras
Open Stage
ISBN-13: 978-0-8222-0018-5


MIN. PERFORMANCE FEE: $105 per performance.
THE STORY: As told by Brooks Atkinson: "Eliminate the story of Huey Long, which Mr. Warren says is not what he is trying to interpret. He is anatomizing the career with nothing but purity in his heart. Discovering that he is being used by a cynical machine, [Willie] adopts their methods, and presently, he is in control of the state. By resorting to corrupt methods he accomplishes things for the people that were only abstract ideals when he was campaigning honestly. As a portrait of politics, this is effective and provocative." NOTE: A revised version of this work, adapted for the stage by Adrian Hall and including incidental music, is also available for amateur production.
This version of the widely known work, which, as a novel, was the recipient of the Pulitzer Prize, had a highly successful Off-Broadway run during the 1959 season.

"Willie in all his personal relationships is a fascinating man and often a winning man, too…What is right and what is wrong? Mr. Warren makes a stimulating inquiry into that troublesome question." —The New York Times.

"ALL THE KING'S MEN went off with a roofshaking bang…This is the most engrossing drama seen off Broadway in months." —New York World Telegram & Sun.

"This drama by Robert Penn Warren is a blockbuster. It is a major Off-Broadway event…A subtle and rich study of man in society." —Cue Magazine.