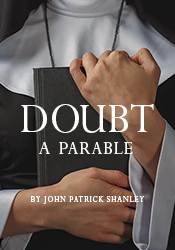 Full Length, Drama
1 man, 3 women
Total Cast: 4, Flexible Set
ISBN-13: 978-0-8222-2219-4


MIN. PERFORMANCE FEE: $130 per performance.
Recipient of the 2005 Tony Award® for Best Play and winner of the Pulitzer Prize for Drama.

THE STORY: In this brilliant and powerful drama, Sister Aloysius, a Bronx school principal, takes matters into her own hands when she suspects the young Father Flynn of improper relations with one of the male students.
"All the elements come invigoratingly together like clockwork in John Patrick Shanley's provocative new play, DOUBT, a gripping story of suspicion cast on a priest's behavior that is less about scandal than about fascinatingly nuanced questions of moral certainty. Something rare for this season: a laudable new American play." —Variety.

"How splendid it feels to be trusted with such passionate, exquisite ambiguity unlike anything we have seen from this prolific playwright so far. Blunt yet subtle, manipulative but full of empathy for all sides, the play is set in 1964 but could not be more timely. In just ninety fast-moving minutes, Shanley creates four blazingly individual people. DOUBT is a lean, potent drama…passionate, exquisite, important and engrossing." —Newsday (NY).

"A beautifully balanced drama. Shanley is a writer working at the top of his craft, making the most of a muted but evocative palette in the pursuit of truth's shadows. Here, for the first time in a long time, is a play that is about something." —Chicago Tribune.

"An eloquent and provocative investigation of truth and consequences. A gripping mystery, tightly written." —Time Out New York.