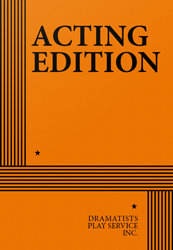 Full Length, Drama
3 men, 2 women
Total Cast: 5, Flexible Set
ISBN-13: 978-0-8222-2225-5

Based on "Honey Pie" and "Superfrog Saves Tokyo" from the novel after the quake by Haruki Murakami.
THE STORY:In this adaptation of two of Haruki Murakami's brilliant short stories, Tony Award–winning director Frank Galati has fashioned an enchanting and deeply moving play that follows the lives of characters struggling with the aftermath of the 1995 earthquake in Kobe, Japan, that nearly destroyed the city. Rich in dreamlike imagery and haunting in its evocation of survival in the wake of terrible disaster, after the quake makes masterful use of storytelling to reveal and explore our primal fears.
"Both resonant and evocative of the fissions of our age." —Variety. "A cleverly woven one-act meditation on human powerlessness…timeless and universal." —Talkin' Broadway. "A mesmerizing 100-minute theater piece…filled with plenty of humor and whimsy." —Chicago Sun-Times. "Galati—who marries theater and storytelling in the form of lively, descriptive narration—expertly integrates both tales." —Daily Herald. "The outstanding achievement here is Galati's adaptation: It manages to retain Murakami's lyricism…while bringing it to mesmerizing life for the stage." —Windy City Times.