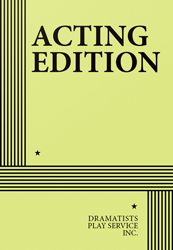 Full Length, Drama
4 men, 3 women
Total Cast: 7, Interior
ISBN-13: 9780822222279

THE STORY: New parents Nina and Miles, an interracial couple, move into a transforming neighborhood in Brooklyn. They have a new house, a new baby, and only one of them has a new job. (Hint: It's not Miles.) Old friends and new strangers come into their lives, testing their instincts on whom to trust and why. Hilarious and heartrending complications ensue around questions of parenting, racial identity, community and the way we live.
"The marvel of SATELLITES…is how effortlessly each of these elements echoes and enhances the others. There are no clean lines between the psychological and the social. And while Ms. Son…creates dialogue with sitcom zing and sting, she also explores language's limitations in dealing with the world in transition…She is to her generation of urbanites what the young Neil Simon was to his: a chronicler of the singular pleasures and perils of life in New York City." —NY Times. "This is an engrossing, unpredictable and believable portrait of people we think we know too well…[Son] has a voice the theater needs. It is familiar and new at the same time." —NY Newsday. "SATELLITES is a rich and rewarding play that seems written with its ending in mind. If that sounds like criticism, it isn't. It's actually a tip of the hat to a craftsperson who knows how to construct a work of art out of the mess of life." —Talkin' Broadway.