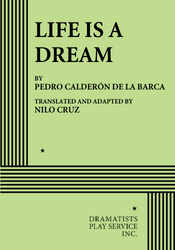 THE STORY: Astrological omens predict that if King Basilio's son Segismundo is crowned, he will become a horrible tyrant who will bring destruction to his kingdom. Basilio imprisons Segismundo for life, but decades later he decides to let his son prove his ability to defy the stars. Allowed to rule the palace, Segismundo wreaks bloody vengeance on the kingdom, confirming the prediction of the stars, and the prince is returned to his prison. In Nilo Cruz's sublime translation of Calderón de la Barca's classic, the question of whether life is a dream or an illusion takes on a renewed relevance and urgency.
"…richly elegant translation…the ultimate question Calderón and Cruz seem to be asking is how a species capable of creating such abominations as genocide, murder and slavery can also produce Beethoven's Fifth Symphony, the Taj Mahal and John Coltrane." —Orange County Weekly.

"That Cruz was able to translate Calderon's florid style into speech acceptable for contemporary audiences is a tribute to his skill and finely-honed sensibilities…" —Press-Telegram.

"It would be easy to reduce LIFE IS A DREAM to its fatalism versus free will paradox, but Cruz's translation strikes the chord of an even more reverberant and often-ignored theme: In the spiritual battle between destiny and self-determination, forgiveness, not willfulness or witchery, is man's only hope. Cruz's translation lays bare this subtlety…" —Category305.

"…a muscular, expressive text…" —Variety.