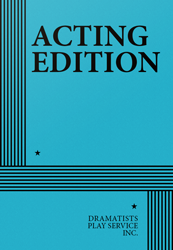 Full Length, Drama
2 men, 1 woman
Total Cast: 3, Flexible Set
ISBN-13: 978-0-8222-2237-8


MIN. PERFORMANCE FEE: $105 per performance.
THE STORY: New Yorkers Carolyn and Michael Goldenhersch are expecting, but when their child is born prematurely and dies, Carolyn is drawn to the doctor who attempted to save the baby's life. An affair between them ensues, uniting all three on a poignant journey of self-discovery. Smart and rich with humor, A VERY COMMON PROCEDURE explores both literally and metaphorically the frailties and mysteries of the human heart.
"Heartrending and unexpectedly funny." —The New York Times.

"Distinguished by Baron's uncommonly excellent writing…there's no denying Baron's talent." —The Star-Ledger (NJ).

"[Ms. Baron has a] gift for dialogue that is tightly interlocked, smartly punctuated with on-target cultural observations." —CurtainUp.