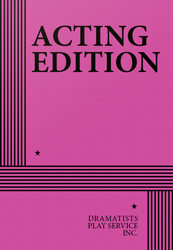 Full Length, Comedy
4 men, 4 women (doubling)
Total Cast: 8, Flexible Set
ISBN-13: 978-0-8222-2242-2


MIN. PERFORMANCE FEE: $105 per performance.
THE STORY: Beginning immediately after Henrik Ibsen's classic ends, THE FURTHER ADVENTURES OF HEDDA GABLER finds Hedda mired in an alternative hell: a place where death is only possible when a fictional character is forgotten by the real-life public. So what is one of drama's most famous suicides to do? After taking advice from helpful neighbor Medea, Hedda and her servant, Mammy, set out on a perilous quest to return to the imaginative furnace of their creation. Along the way, they meet characters from science fiction, Black feminist theater, TV cop shows, Biblical dramas, as well as a couple of wisecracking, self-hating gay characters from the 1960s. Once Hedda and Mammy arrive at their fiery destination, they face a heartbreaking truth about themselves, their creators, and the forces that make them eternal.
"Hedda Gabler, last seen prostrate on a couch with a bullet hole in her head, makes a surprising return in Jeff Whitty's sprightly new comedy…What's most satisfying to report is the way Whitty takes a premise that could easily have amounted to a revue sketch—a series of gags of diminishing returns—and transforms it with his giddy wit and fertile inventiveness into a genuine play." —Los Angeles Times.

"Jeff Whitty's new play, THE FURTHER ADVENTURES OF HEDDA GABLER, is a valentine to dramatic literature, the creative process and the power of the imagination. But it's also a gleefully delirious, wildly imaginative ride that owes as much to The Simpsons and The Wizard of Oz as it does to Ibsen and Sophocles…This play never fails to stimulate, entertain, dazzle and move. If a universe of fictional characters truly does exist, Whitty's riffs will be sucking air for a very long time." —OC Weekly.

"Breaking the fourth wall, Whitty celebrates the joys of theater, and if powerlessly watching her commit suicide in the umpteenth production of Hedda Gabler doesn't empower our heroine, it might just do so for some unsuspecting audience member gripped in the play's deceptive vise of laughter." —Orange County Register.

"Jeff Whitty's irreverent and witty reinvention of Henrik Ibsen's most-possessed tragic figure Hedda Gabler in THE FURTHER ADVENTURES OF HEDDA GABLER…is wacky and poignant, a one-liner that becomes a thoughtful theater piece." —The Hollywood Reporter.