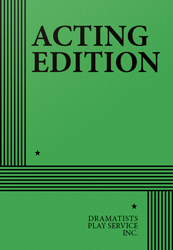 Full Length, Drama
5 men, 1 boy
Total Cast: 6, Interiors/Exteriors
ISBN-13: 978-0-8222-2244-6

THE STORY: In DEFENDER OF THE FAITH, Stuart Carolan's debut play, an IRA family living in rural Armagh, Ireland, in 1986 come apart under the immense strain put on them when an IRA interrogator visits determined to find the informer in their midst. The father, his grown-up son, Thomas, and a long-serving farm hand, Barney, all fall under the suspicion of the menacing JJ from Belfast. The family's isolated farm becomes the setting for the frightening disintegration of the relationship between Thomas and his father as the pressure of the investigation and its results reopen the wounds of the already damaged family. DEFENDER OF THE FAITH is blackly comic and chillingly real, with an atmosphere taut with menace.
2005 winner of the George Devine Award. "The writing achievement of this play is beyond intelligence, indicating an artist at work untroubled by contemporary notions about lines between politics and art." —Irish Times. "…a marvelously charged and emotionally intense and menacing drama…a deeply impressive debut by Carolan and a triumph for all concerned…shows how the wounds of war scar the victors as deeply as the defeated." —Irish Examiner. "This frightening play should be required viewing." —Sunday Independent (London). "…triumphantly unflinching theatre overflowing with honest complexity and bewildered sadness." —Evening Herald (London). "The men and even the young boys are all sharpened to flint by the ongoing struggle being waged over Northern Ireland's fate in Stuart Carolan's forceful drama set in 1986." —The New Yorker. "…by writing a compact, ninety-minute play with only a handful of characters, Carolan gets right to the heart of the Irish conflict: how it ripped apart families—physically and emotionally—for most of a century" —TimesSquare.com. "The opening scenes build crackerjack suspense. With a few subtle touches, the relationships between the characters feel dangerous. It's chilling, for instance, when Irish Republican Army soldier JJ, chatting with Father at a kitchen table, compares the intelligence of pigs and humans." —Variety.