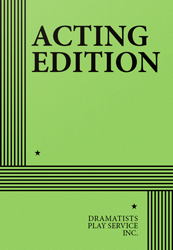 Full Length, Comedy/Drama
9 men (flexible casting)
Total Cast: 9, Flexible Set
ISBN-13: 978-0-8222-2245-3

THE STORY: SOME MEN is Tony Award–winner Terrence McNally at his best. Often funny and sometimes touching, SOME MEN looks at same-sex life and love against a background of some of the events that shaped the last century.
"Terrence McNally's play is a superb theatrical experience—an evocative, funny, poignant and wise tour through gay life over the last eighty years or so. Two classes of people would benefit from seeing it: gay, lesbian, bisexual or transgendered people interested in learning in a very entertaining way what life has been like for us in recent times; and heterosexual people who'd like to learn the same thing. I have no hesitation in saying how much pleasure I derived in spending time with SOME MEN on my birthday in New York." —U.S. Senator Barney Frank. "A breezy series of sketches…droll observations on the difficulties of translating the classic gay sensibility…a pageant of the ages à la Noël Coward's Cavalcade." —NY Times. "Harks back to the knife-edge Absurdism of McNally's own earliest phase; short bursts of excitement are a youthful trait that an oldster can weave into more knowing patterns." —Village Voice. "A moving and funny encyclopedia of relationships…a lush, mixed bouquet of sex, pain, and laughs, and sometimes big laughs happen in the painful parts. Not a quick montage, situations are presented with depth and poignancy." —CurtainUp. "Funny and thoughtful…gripping…excellent touches throughout, heartbreaking scenes and funny ones." —Talkin' Broadway.