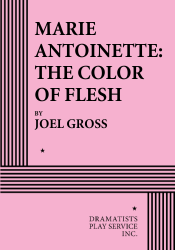 THE STORY: MARIE ANTOINETTE: THE COLOR OF FLESH is a dramatic love triangle set during the turbulent years around the French Revolution. Elisabeth Vigée le Brun, a beautiful, social-climbing portrait painter, uses her affair with Count Alexis de Ligne, a left-leaning philanderer, to get a commission to paint the naive young Queen Marie Antoinette. While Elisa uses the Queen to further her career and Alexis uses the Queen to further his political goals, both learn to love the woman they're exploiting. Elisa becomes the Queen's best friend, and Alexis becomes the Queen's lover. Elisa tries to end the scandalous affair between the Queen and Alexis, both out of concern for the Queen's political position and jealousy over Alexis' love, until the Revolution shatters all three of their lives.
"The sweep of a historical novel…real events swirl outside, while inside at Versailles, emotions swirl just as vigorously around a triangle of love and friendship…Explores issues of class, many of them sounding quite contemporary, while creating a touching story of love." —The New York Times.

"Joel Gross gives history a refreshingly human face in his richly detailed psychological study of an imagined love triangle between doomed Marie Antoinette; her portrait painter, Elisabeth Vigée le Brun; and a fictitious radical leftist playboy-aristocrat, Count Alexis de Ligne, lover to both. Spanning two politically explosive decades surrounding the French Revolution, all rioting, beheading, and battling transpire offstage in this elegant, intimate drawing-room-and-boudoir drama. Deftly [weaves] politics, history, art, and romance…" —Backstage.

"The social and political are as wickedly intertwined as lovers' limbs." —Off-Off Online.

"[The] French Revolution unfolds in the background of the domestic revelations, creating a heart-breaking and absorbing counterpoint." —Show Business Weekly.

"Irreverent in his creation of a footnote to the French Revolution concerning lost hearts and lost heads…vivid characterizations…amusing…wrenching." —UPI.

"One of the season's best…a white-hot play." —The Star-Ledger (NJ).