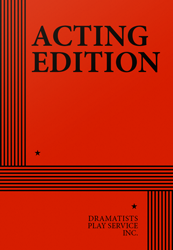 Full Length, Comedy/Drama
4 men, 2 women
Total Cast: 6, Interior
ISBN-13: 9780822222484

THE STORY: Wendell's wife, Lina, is pregnant. His wayward best friend, Floyd, sleeps nightly on their couch. And as if things aren't stressful enough, he's under constant pressure to "father" his messed-up neighbors in the Bronx. In an effort to get some money together, Wendell takes in a rooster to train for an illegal cockfight. As they discover that training a bird for a death match in Washington Heights is not for the faint of heart, this dysfunctional family comes to blows before the fight ever takes place. In this devilish comedy, playwright Mike Batistick investigates power, community and loss, and searches for grace in the most unlikely places.
"The men and women who populate contemporary relationship dramas tend to belong to a specific demographic, and when they quarrel, they do so on pale sofas and sea grass rugs. Their minds may be cluttered—with unruly dissatisfaction, with upper-middle-class regret—but their rooms have the air of 100 oxygen tanks. [The set of CHICKEN] inflicts a certain stifling anxiety right away…the set is a tiny, cramped apartment full of the mess of people who must worry about money. Mr. Batistick renders his metaphors in the thickest available chalk, but the story itself is as moving as the jump over the class divide is rare." —NY Times. CHICKEN follows the self-destructive Wendell as he tries to eat himself to death and save his family from poverty and humiliation at the same time. The trouble with Wendell's mission is that he has, in his own words, 'a big, weird family.' For example, Floyd isn't Wendell's brother, but he might as well be, given the way the two men fight, and the sacrifices Wendell is willing to make for him. Wendell doesn't owe Floyd's estranged wife anything, but he's willing to give her money behind Floyd's back to help take care of their kids. He's selfless, but in the world of Batistick's play, that's a death sentence…Floyd is a simpler animal: He takes what he wants, whether it's a place on Wendell's couch or a night in his bed. Though he's unemployed and lazy, he still tries to defend his friend—a holdover from their shared childhood in an orphanage. Floyd will always survive, but he hates his self-interest so much that his protective, manipulative relationship with Wendell seems like both penance and sin…Though he puts them in a cramped, cluttered apartment in the Bronx, Batistick's odd working-class Catholics are exploring new territory." —NY Newsday. "There's a gritty, street-smart humor in Mike Batistick's play about three neighborhood pals—and one unhappy spouse—who end up grooming a sickly rooster for an illegal cockfight in the Bronx." —The New Y