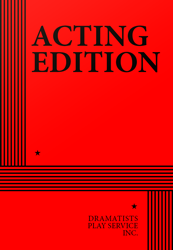 Full Length, Drama
1 man, 1 woman, 1 girl
Total Cast: 2, Interior
ISBN-13: 978-0-8222-2251-4


MIN. PERFORMANCE FEE: $130 per performance.
THE STORY: This intense work was commissioned by the Edinburgh International Festival, where it received its world premiere. After years in prison and subsequent hardships, Ray, fifty-six, has a new identity and has made a new life for himself, thinking that he cannot be found. Una, twenty-seven, has thought of nothing else; upon seeing a photo of Ray in a magazine, she has arrived unannounced at his office. Guilt, rage, and raw emotions run high as they recollect the passionate relationship they had fifteen years ago, when she was twelve and he was forty. Without any moral judgments, the play never shies away from the brutal truth of this abandoned and unconventional love. Una is looking for answers, not vengeance. Nevertheless, the consequences are shattering.
"The gifted David Harrower's intense BLACKBIRD promises to be the most powerful drama of the season…masterly, mesmerizing…extraordinary…a miracle." —NY Times. "Four stars! This haunting, powerful, incendiary work is the sort of daring theater far too absent from our stages these days." —NY Post. "A provocative, shocking and worthwhile new play. Playwright David Harrower is definitely a name to watch." —NY Daily News. "A fascinating and unnerving ninety-minute cat-and-mouse tale of revenge and sexual intrigue, with genuine theatricality and undeniable shock value." —Associated Press. "It's a wonderfully engaging intellectual conflagration with a very slow burn…a dark and beguiling play which stays with you…a remarkable play." —CurtainUp.com. "An Ibsenite inquiry into the past…psychological insight, creation of characters and nice sociological detail…Poignant." —Evening Standard (London). "This is an extraordinary, no-holds-barred drama that both chills and thrills…raw, wounded intensity. Magnificently tense and atmospheric." —Telegraph (London)