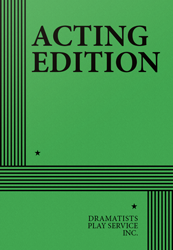 Full Length, Drama
5 men
Total Cast: 5, Interior
ISBN-13: 9780822222842

THE STORY: THE SEAFARER is a chilling new play about the sea, Ireland, and the power of myth. It's Christmas Eve, and Sharky has returned to Dublin to look after his irascible, aging brother who's recently gone blind. Old drinking buddies Ivan and Nicky are holed up at the house too, hoping to play some cards. But with the arrival of a stranger from the distant past, the stakes are raised ever higher. Sharky may be playing for his very soul.
"…dark and enthralling Christmas fable of despair and redemption…tingles with the author's acute and authentic sense of what is knowable and unknowable in life…THE SEAFARER may just be the pick-me-up play of the season." —NY Times. "…a midnight-black comedy, one that wrenches laughter out of the despair of frustrated men whose lives have come to naught…No matter what you're expecting at the halfway mark, you won't feel cheated when the curtain falls." —Wall Street Journal. "A timeless classic." —Hollywood Reporter.