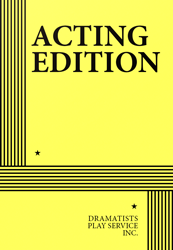 Full Length, Drama
1 man
Total Cast: 1, Flexible Set
ISBN-13: 978-0-8222-2304-7


FEE: $105 per performance.
THE STORY: Augustine Early, a crooked journalist, has made an art of clawing his way up the professional ladder. When he turns a politician's tawdry predilections into front-page news, the scandal threatens to undo the one person he thought was immune. A searing and hilarious play about catching the perfect headline, whatever the cost.
"Viciously funny…he is despicable but you want to go on despising him all night." —Boston Globe. "…the gutter-lyrical fireworks of the rogue male ego…a compelling voice…" —Time Out London. "…the most alluringly sleazy newshound this side of the twenty-first century." —Boston Herald. "…THE ATHEIST is not to be condemned but savoured." —CurtainUp. "…accomplishes the Olympian task of making an utter bastard compelling." —Variety. "…[a] riveting one person show…" —TheaterMania.com.