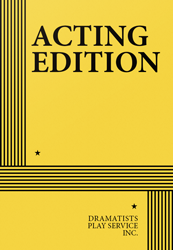 Full Length, Drama
3 men, 3 women
Total Cast: 6, Flexible Set
ISBN-13: 978-0-8222-2318-4


FEE: $105 per performance.
THE STORY: Prep-school senior Brandon Hardy is brilliant, athletic, popular and charming—the kind of student that makes St. Joe's School for Boys proud to call its own. However, his privileged life threatens to collapse when a disturbing videotape is found on campus. As the resulting scandal takes unexpected turns, Brandon's mother Elizabeth must sort fact from fiction from family and confront unsettling truths about her son, herself, and their life.
"The hothouse atmosphere of all-male boarding schools has inspired a whole body of literature and drama exploring themes of friendship, romance, honor and betrayal…Roberto Aguirre-Sacasa's GOOD BOYS AND TRUE is a solid addition to the canon. It's a suspenseful mystery, compassionate character study and moving love story rolled into one—and a fine showcase for an ensemble of first-rate actors."—Chicago Reader. "In his few years on the scene, the playwright Roberto Aguirre-Sacasa has proven to be a natural entertainer. Actors like to sink their teeth into his dialogue, and his hard-charging stories proceed with the speed and verve of television. But he takes a leap forward with his latest drama, GOOD BOYS AND TRUE, displaying a new deftness in layering troubling moral questions under a smooth, entertaining surface. The play goes down easy, but its aftertaste is sharp." —NY Sun. "We all have something murky in our past—that is the thesis of Roberto Aguirre-Sacasa's riveting drama GOOD BOYS AND TRUE, a craftily constructed, psychologically astute, absorbing play that harbors claws the fiercest feline could envy."—Bloomberg.com. "Be prepared for an engrossing drama that heightens suspense as it moves along and wherein not everything is what it seems."—SteadstyleChicago.com.