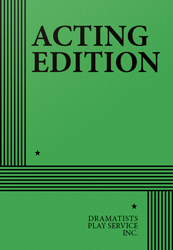 Full Length, Drama
1 man, 1 woman
Total Cast: 2, Flexible Set
ISBN-13: 978-0-8222-2323-8


MIN. PERFORMANCE FEE: $105 per performance.
THE STORY: A man lost in his adult life drives across the West with his stepdaughter—a young girl at the beginning of hers. The broken ground is echoed by their broken past. He's trying to fit together a new life using pieces of the old; she's just trying to survive. Two characters, Bitch and Monkey Man (the only names the young girl will allow), roam through the northern Rockies on a long loop from home, with two very different agendas. In a series of increasingly desperate attempts to rescue something from the wreckage of divorce, they test how much they can trust each other—or whether they can ever trust each other again. Along the way darker and darker secrets emerge, and the questions they face ineluctably become those of life and death.
"[GREAT FALLS]…reminded me that writers today can create plays that address lasting and universal human issues." —City Beat (Cincinnati).

"Blessing's pointedly symbolic, impeccably paced scenes unfold like a road map…certainly the best-crafted play of the [2008 Humana] festival." —Pittsburgh Post-Gazette.

"…a great play…outstanding and searingly honest." —Lexington Herald-Leader.