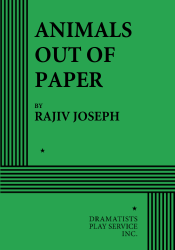 THE STORY: When a world-renowned origami artist opens her studio to a teenage prodigy and his school teacher, she discovers that life and love can't be arranged neatly in this drama about finding the perfect fold.
"Mr. Joseph's observant, pitch-perfect script…is really quite ambitious, dealing ruthlessly…with the fragility of happiness, the tragedy of impulsiveness and the tenuousness of hope." —The New York Times.

"Whether they end poorly or well, relationships always leave a mark, like a new memory, etching a groove into our brains. That's a familiar idea, but Rajiv Joseph makes it feel fresh. In ANIMALS OUT OF PAPER, he begins with a quirky comedy and transforms it into a melancholy reminder that close friends make the worst messes. His journey from one extreme to the other…is surprising and specific, pulling honest insights out of unusual situations." —Variety.

"…an exhilarating way to examine the tough subjects of loss, pain, and the balm of creativity…In this wise and richly layered work, the practice of origami…operates as a metaphor for numerous thing—from crafting a meaningful life out of positive and negative components to Joseph's snazzily extruding art out of raw, often corrosive ideas." —TheaterMania.

"You'll find plenty to educate and charm you in Rajiv Joseph's delicately explosive new play ANIMALS OUT OF PAPER…sharp-edged exploration…searingly simple, but richly satisfying, drama." —Talkin' Broadway.