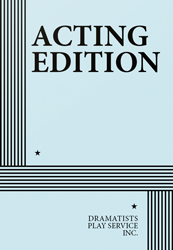 Full Length, Drama
3 men, 3 women
Total Cast: 6, Flexible Set
ISBN-13: 9780822230205

THE STORY: When Sonia learns of her son's decision to leave college, enlist in the military and fight against terror in Afghanistan in the weeks following 9/11, memories of her own childhood overwhelm her. She struggles to reconcile being forced as a young girl to leave Cuba at the dawn of Fidel Castro's rule with her own responsibilities as a mother facing uncertainty. Sonia must find a way to come to terms with her past, her lost parents, her own children and her adopted country—or risk losing everything that she loves. Set between post-revolutionary Cuba and post-9/11 America, SONIA FLEW telescopes the large cultural and political forces of a historic moment to examine their impact on the intimate lives of ordinary men and women. What do we owe our parents? Can we forgive the past? This poetic and urgent play bridges time and culture in a drama about the cost of forgiveness.
"SONIA FLEW is a play for our age." —Boston Globe. "SONIA FLEW is compelling…Lopez draws tragicomic portraits of loving but chafing family interactions." —WBUR. "[An] engaging new play about family, flight, and forgiveness…What makes SONIA FLEW so moving is [its] feisty portrayal of family life, whether bathed in the sunlight and fear of early Castro Cuba or tucked into a bicultural jumble of tchotchkes and adamancy in the post-September 11 Midwest…Sonia flies." —Boston Phoenix. "Bursts with a synergy between political ideas and theatrical conceits…it brims with character and incident." —EdgeBoston.com. "Melinda Lopez has delivered a script that seems lifted from real life, where profound truths exist side-by-side with petty arguments, trivial annoyances and flashes of humor—all of it boiling down to scared ways of saying 'I love you.'" —Orange County Weekly. "Melinda Lopez's moving and smartly structured play…is an examination of the fragility of a reality built on denial and a troubled past that defies easy reconciliation with the present…Lopez knows the precise and painful calibrations of a soul in torment about a painful past. SONIA FLEW builds to an emotional catharsis and long-delayed closure that are undeniably moving." —Orange County Register.