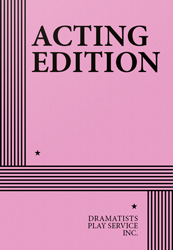 Full Length, Comedy
2 men, 2 women (doubling)
Total Cast: 4, Flexible Set
ISBN-13: 978-0-8222-2353-5


MIN. PERFORMANCE FEE: $105 per performance.
THE STORY: Welcome to the hilarious, terrifying and surreal world of child beauty pageants. Pinky Corningfield will do anything to make sure her little angel wins the ultimate title, Supreme Queen. When Marge, a newcomer to the pageant circuit, shows up and starts grabbing all the glory, Pinky and her minions, Bob and Bobby, use some unorthodox methods in order to ensure her darling, Chevrolet, is victorious. Glitz. Glamour. Kidnapping. Money. Really, really small false teeth. PAGEANT PLAY.
"…hilarious…a crowd pleaser…this endeavor seems assured of a long afterlife on the theater circuit." —TheaterMania.

"…really, really funny…hilarious…also about something real…one of the funniest plays of 2008." —Boston Globe.

"…a lot of silly fun." —CurtainUp.