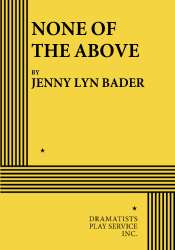 THE STORY: Jamie, 17, a sophisticated New York City private school student, answers the door one day expecting her drug dealer—and instead finds her SAT tutor. Things degenerate from there. First Jamie tries to get out of being tutored and then she tries to cut a deal with the tutor, Clark. He doesn't have much sympathy for her plight. They clash right away and seem to have very different values and priorities. But as the play progresses, Jamie and Clark negotiate an unusual pact. Soon enough, all the snap judgments these two have about each other will get thrown out the window, and they'll both be surprised by what they learn.
"A snappy new comedy by the playwright Jenny Lyn Bader about the risks people end up taking when they're trying to safeguard themselves…with wit and candor, the two characters deftly dissect entitlement, intelligence, and isosceles triangles." —The New Yorker.

"A teen comedy, urban satire, intellectual caper and romance, all rolled into one…Plenty of charm and smarts!" —Time Out New York.

"A creatively original plot line…appealing, rounded characters…Bader's dialogue has conviction and her character development shows a remarkably restrained hand." —Backstage.

"…hits all the right notes. It's smart, subtle, and very funny…To say that NONE OF THE ABOVE has a future is an understatement. It's a small masterpiece." —Metro New York.

"One of the surprises in store in [NONE OF THE ABOVE]…is that it makes the SAT as funny as it does; that it finds time to examine a number of weighty psychological subjects and imbue them with humor is more remarkable still…a breezy, almost-romantic comedy that, for two hours, will keep the sun brightly shining." —Talkin' Broadway.

"A beguiling and often very funny look at entitlement, addiction, and young love." —American Theatre.

"Tart social comedy." —Newsday (NY).