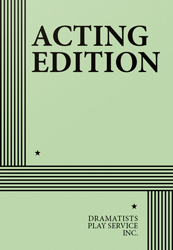 One Act, Drama
1 woman
Total Cast: 1, Simple Exterior
ISBN-13: 978-0-8222-0090-1

THE STORY: The play takes place on the streets of New York, where this "bag lady" calls home. On this day, she goes about her business, stuffing her shopping bags with assorted oddments. Suddenly assailed by voices of passersby, she responds to them both humorously and belligerently. She ruminates on the past and present, proclaiming her sovereignty as the quintessential urbanite. She is the city, with all its terrors, loneliness, filth and, in the final essence, its special majesty and unquenchable individuality.
In the words of in the New York Times this is "vintage van Itallie" a perceptive, articulate and always arresting evocation of big city life captured through the complex characterization of an itinerant "bag lady." "The play is not, as one might expect, a literal transcription from the street, but a poetic interpretation by a discerning playwright and actress." —NY Times. "What Mr. van Itallie, Ms. Chaikin, and their collaborators have in fact done is give New York City a voice and an image" —Village Voice.